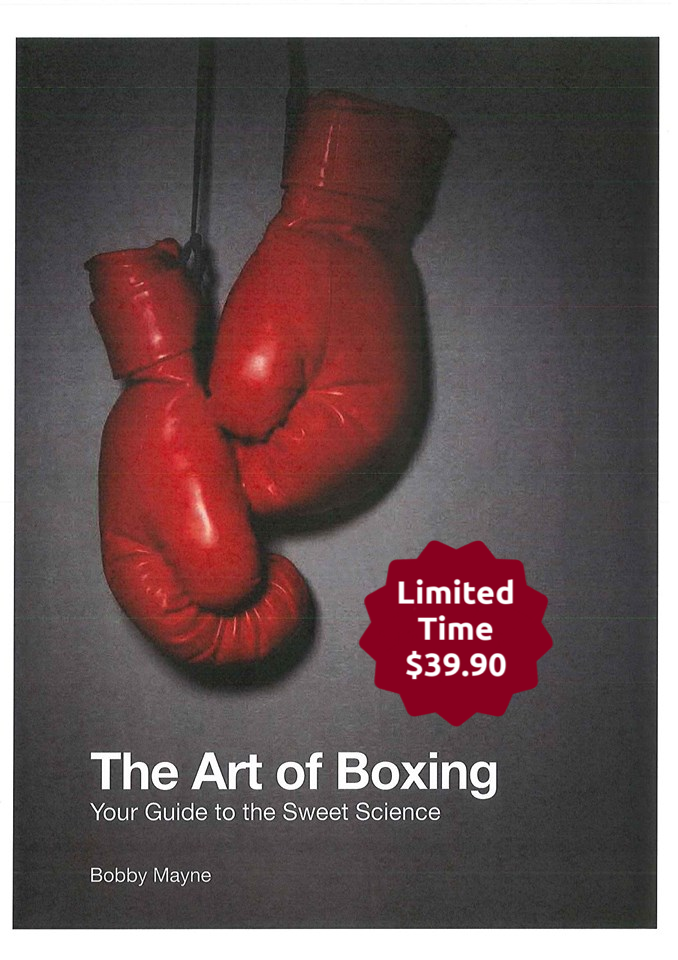 Limited Time  'Special Price $39.90'
'The Art of Boxing: Your Guide to the Sweet Science' is written by world class boxing trainer and judge Bobby Mayne, drawing from 40 years' experience in the sport. Starting as a 13-year old novice boxer through to professional boxing judge and now a world-class boxing coach, "coach Bobby Boxrite" has trained numerous boxers both at amateur and professional levels to state, national, regional and world championship titles.
This coaching book draws from the experiences of the author, guiding the reader through the process of training, highlighting the technical skills and tactics, and working through the fitness and conditioning, providing effectively proven examples of training programs to assist aspiring boxers for success in the boxing ring. There is a chapter dedicated to the roles of boxing officials giving the reader an insight on the scoring criteria used in a bout, providing that edge for both boxers and coaches of how boxing tactics can influence the judges' scores.
Other topics covered to improving training:
-Boxing fundamentals
-Effective boxing combination punching
-Using boxing equipment
-Boxing defensive skills
-Counterpunching drills
-Ringcraft
-Strength and conditioning for boxing
-Periodization of training
-Rules and Regulations for competition
The complete coaching guide for boxing, MMA competitors, personal trainers and fitness enthusiasts.
Reviews from world class boxing trainers and boxers:
Freddie Roach
I like the title of this training manual because it is an accurate description of the sport of boxing. This comprehensive training manual is a valuable teaching aid for boxers from novices to top level professionals because it covers different aspects of the training from the important fundamentals of the sport, how to apply these skills correctly in sparring and competition, and to implement a training program to include fitness and conditioning which is vital for a boxer preparing for a bout. This manual will also prove to be a valuable reference tool for coaching boxers
Trainer of World Champion & Current #1 Pound-for-Pound Boxer Manny Pacquaio
World Boxing Hall of Fame Inductee (Manager & Trainer Category)
Boxing Writers Association of America Trainer of the Year 2003, 2006 & 2008